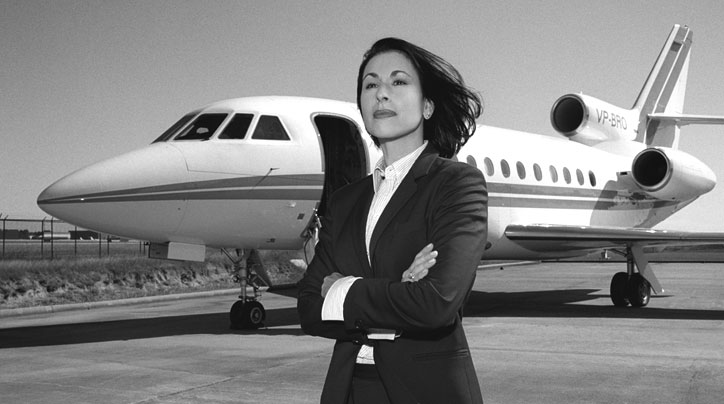 HOUSTON, Texas (April 12, 2016) – Janine Iannarelli, founder and president of Houston-based Par Avion Ltd., has been selected by the Women's Chamber of Commerce of Texas as a finalist for Texas Businesswoman of the Year (TBOY).  Iannarelli is one of four self-made Texas women who will be honored at a reception April 21 at Neiman Marcus in Austin, Texas. She will also participate on the celebrity panel with the other finalists at the 2016 MAPcon+TBOY Conference April 22 to be held at The Westin Austin at the Domain.  The Women's Chamber of Commerce of Texas is celebrating its 25th year presenting MAPcon+TBOY – a high-energy forum where business women who are decision makers and influencers participate in interactive panel discussions, visit with exhibitors and enjoy numerous networking opportunities.
The other Texas Businesswomen of the Year finalists include jewelry designer Kendra Scott, top lobbyist and philanthropist Andrea McWilliams, and CEO of both KidsCare Therapy as well as Baker Management Group Cortney Baker, PhD. Iannarelli and the other entrepreneurs were chosen from among a large field of nominees for exemplifying leadership, brilliance, and achievement and who personify professional excellence. Criteria for selection included significant accomplishments in their professional careers, community leadership, support of the economic advancement of business and professional women, other awards and honors, and core professional values.
"I am genuinely humbled to have been selected as a finalist for this award, and I feel honored to be in the company of these three other dynamic businesswomen. My accomplishments have been hard won in a very demanding profession and it means so much to be acknowledged by such an established and energetic organization that empowers women to be the best they can," Iannarelli commented.
In January 2016, Ms. Iannarelli was reappointed and named presiding officer by Governor Greg Abbott to the Texas Aerospace and Aviation Advisory Committee. Ms. Iannarelli was originally appointed to the committee by former Governor Rick Perry in October 2014.  She had previously been named a Great Woman of Texas, Woman of Influence by the Fort Worth Business Press in 2011.  Ms. Iannarelli accepted an invitation in March 2016 to join the European Business Aviation Association Associate Members Advisory Council's Sales and Acquisitions Committee. As a sought out mentor and inspirational advisor, she often speaks before women's and youth organizations about career development and life skill sets necessary to navigate the business world.
About Par Avion Ltd.
Par Avion Ltd. is an international business aircraft marketing firm that specializes in the sale of pre-owned aircraft ranging in size from small cabin to large cabin, intercontinental range aircraft. Par Avion is widely recognized as a leading purveyor of pre-owned Dassault Falcon jets.  For further information, please visit paravionltd.com or contact Iannarelli at +1.713.681.0075.