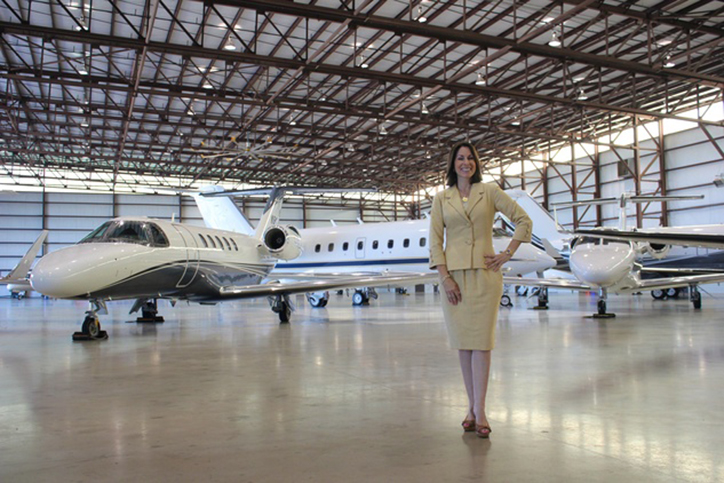 HOUSTON, Texas (June 13, 2011) —  After hearing recent U.S. economic reports from a variety of official government sources that point to what many analysts are  referring to as a "stalling" or "slowing" economic recovery, veteran business jet broker Janine Iannarelli says that she has not seen any real indication of a recovery underway. In spite of the rosy picture of a rebounding economy that has been promoted to the American public for much of this year, Iannarelli has been asking 'What recovery?' for months.
"Trends in the sale of business aircraft, both new and used, are regarded as a harbinger of activity in the overall economy.  For years now, at least two global financial services firms have tracked activity within this market since business jet sales statistics are a key indicator of overall corporate health," commented Janine Iannarelli, founder and president. "While manufacturers talk of an order book being full for at least the next couple of years, the truth is that there are still new delivery aircraft positions churning on the secondary market.  The market for pre-owned aircraft is for the most part stagnant with rare exception:  that of ultra-long range, large cabin airplanes.  The rise in values in this sector of the overall market is being driven primarily by off-shore demand.  The bright spots in business aviation are in sales to the 'BRIC' countries – Brazil, Russia, India and China.  In the past, the U.S. market was the biggest consumer of new business jet aircraft."
1415 S. VOSS ROAD, NO. 110-446  HOUSTON, TEXAS  77057  USA  713-681-0075  FAX: 713-681-0035
AVIATION    CONSULTANTS    TO    THE    WORLD
"Business aviation has been especially hard hit since the fourth quarter of 2008, with values for pre-owned business jets driven down by as much as 40 to 50 percent.  And those who want to sell their jets are faced with the challenges of a limited number of buyers, limited availability of financing and a huge inventory of planes on the global market. Outside of increased recent demand for long reach planes, a recovery has yet to be seen in the bulk of the marketplace," Iannarelli noted.
Iannarelli, who has more than 25 years of experience in business aviation and who specializes in cross-border transactions, has extensive experience in buying and selling the Bombardier, Citation, Falcon, Gulfstream, Hawker, and most recently the new Phenom product lines. She is a regular source of news and commentary for newspapers, magazines, radio and television.  Her blogs appear on the Par Avion Ltd. Web site, www.paravionltd.com, and on the international aviation marketing site, www.AVBuyer.com.
"While the general public may consider a private jet to be a luxury item, the reality is that business jets are valuable productivity tools for companies, organizations, teams, and individuals who need to maximize the use of time and talent.  Business aviation offers the priceless benefits of security, scheduling flexibility, and arriving at and departing from less congested airports that are generally closer to the passengers' final destination," Iannarelli explained.
About Par Avion Ltd.
Par Avion Ltd. is an international business aircraft marketing firm that specializes in the sale of pre-owned business jets with an emphasis on large cabin, intercontinental range aircraft. While widely recognized as the leading purveyor of pre-owned Dassault Falcon Jets, Par Avion's sales expertise includes that of the Bombardier, Citation, Embraer, Gulfstream and Hawker business jet product lines. Exclusive representation, acquisition on demand and the oversight of an aircraft sales transaction are the key services offered by the firm. For more information on Iannarelli or Par Avion Ltd., please visit www.paravionltd.com, call 713 681 0075 or email jki@paravionltd.com.