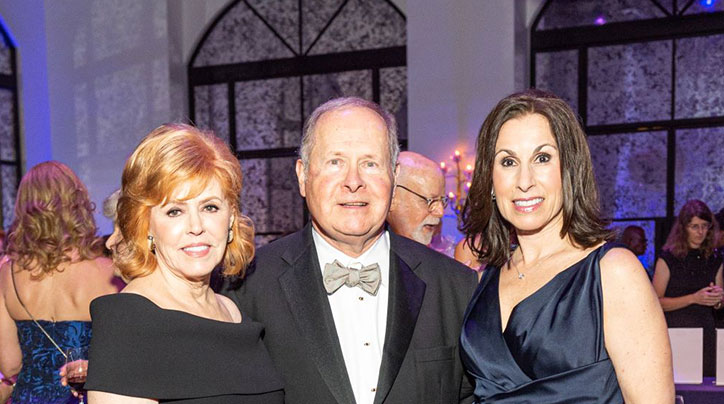 HOUSTON, Texas (May 2019) – Each year, the Lone Star Flight Museum holds its Blue Skies Gala to raise valuable funds to preserve aviation history and educate and inspire young men and women through STEM education programs to pursue careers in the aviation industry. In its third year, the 2019 event was no different. Co-chaired by Houston-based Par Avion Ltd. President and Founder Janine K. Iannarelli, over $700,000 was raised in a one-night celebration with approximately 500 in attendance.
"Promoting the value of STEM (Science, Technology, Engineering and Math) education is of paramount importance to the aviation community as there is an urgent need to fill the demand for future aviation professionals which is why I actively look for opportunities to lend my hand in this area. As STEM learning is a key mission of the Lone Star Flight Museum and they are working to help build interest among youth through their state-of-the-art learning center, it made for a perfect fit for me to add my marketing and sales skill set to this worthy fundraiser," notes Iannarelli. "I'm thrilled to have worked with co-chairs and Bette and Ralph Thomas (Lone Star Flight Museum Board Member) and noted Houston Philanthropist and Honorary Chair Margaret Alkek Williams to bring to life the vision of Moonstruck, our theme for this year."
Moonstruck, the 2019 Blue Skies Gala, honored Houston-based Universal Weather and Aviation, Inc. with the 2019 Blue Skies Company of Distinction recognition. In addition, the gathering celebrated The Apollo Program during the 50th anniversary year of the lunar landing and paid tribute to President George H.W. Bush, a member of the Texas Aviation Hall of Fame and a supporter of the Lone Star Flight Museum.
Iannarelli was influential in bringing much of the business aviation community out in support of the 2019 fundraiser. A number of industry OEMs and service providers answered the call to help support the event including Avsurance, Bombardier, Dassault Falcon Jet, Global Aviation Navigator, Gulfstream Aerospace, Jet Support Services Inc., and VistaJet.
"I appreciate the support of the business aviation community in particular and for their recognizing the importance of making an investment in our youth while preserving the history of Texas aviation," continues Iannarelli. "The 2019 Blue Skies Gala succeeded in bringing together Houston philanthropic and business leaders, state and local officials, industry pioneers and society to learn more about the Lone Star Flight Museum and the opportunities it provides to educate and encourage youth to pursue studies in STEM. I was honored and delighted to have been able to play a role in this achievement and grateful for the support given by so many. The aviation learning center is a game-changer and the museum will rightfully take its place as a premier facility for showcasing Texas' leading role in the growth and development of aerospace and aviation."
Iannarelli also serves as Chair of the Governor of Texas' Aerospace and Aviation Advisory Committee as well as on the Houston Girlstart Council and has long supported Girls in Aviation Day for Women in Aviation.
"We are grateful to our co-chairs Janine Iannarelli and Bette and Ralph Thomas for their time, effort and leadership to make our Blue Skies Gala a great success. Thousands of Houston's young people will enjoy the museum's STEM and aviation programs as a result of their generous support and selfless effort to produce a wonderful fundraising evening," said Lt. Gen. Doug Owens (ret.), President & CEO of the Lone Star Flight Museum.
About Par Avion Ltd.
Janine K. Iannarelli is the founder and president of Par Avion Ltd. She has more than 30 years of business aviation experience representing numerous corporations and private individuals worldwide with the sale and purchase of business aircraft. Par Avion is an aircraft marketing firm that specializes in the exclusive representation and acquisition of aircraft with an emphasis on pre-owned business jets valued upwards of $65,000,000 (USD). For more information visit ParAvionLtd.com.
About the Lone Star Flight Museum
The Lone Star Flight Museum (LSFM) is a 501c3 aviation museum and learning center with a mission to celebrate flight and achievements in Texas aviation and to educate and engage youth through science, technology, engineering and math. Located at Houston's Ellington Airport, the museum features The Texas Aviation Hall of Fame, a distinguished flying collection of historic aircraft, the High-Tech Aviation Learning center and dynamic hands-on exhibits, experiences and programs. www.LoneStarFlight.org