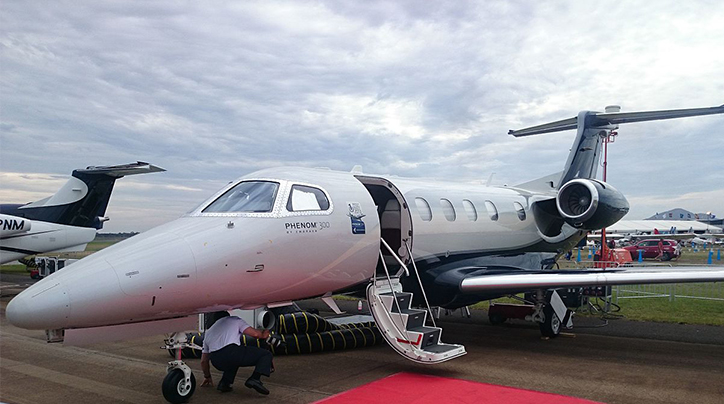 HOUSTON, Texas (March 14, 2012) — Par Avion Ltd., a business jet brokerage firm based in Houston, recently completed the first sale of a pre-owned Embraer Phenom 300 business jet, announced Janine K. Iannarelli, founder and president of Par Avion Ltd.
Par Avion represents both buyers and sellers of pre-owned fixed wing aircraft that are valued upwards of $60 million. The company specializes in the sale of large cabin, long range aircraft with a particular expertise in cross-border transactions.  They have expanded in recent years into the Embraer Phenom 100 and 300 product line as they see them as an ideal entry-level aircraft for the aspiring jet owner.
As the broker of record, Par Avion assumed all responsibility for marketing and selling the 2009 Phenom 300 (Serial Number 505-00005) on behalf of the seller. Terms and conditions of the sale and the names of the seller and buyer were not disclosed, but the aircraft was offered at $7,995,000.  For more information on the features, design and performance of the Phenom series, please visit www.embraerexecutivejets.com.
Iannarelli commented: "Par Avion Ltd. is extremely honored to have been entrusted with representing the original owner of this Phenom 300 and is pleased to have
been able to structure a deal in what is a very challenging and competitive sales environment.  My client was the launch customer for the Phenom 300 and, by all accounts, found it to be a very user friendly and capable business jet. This jet was impeccably appointed and meticulously maintained by factory-approved service centers."
1415 S. VOSS ROAD, NO.110-446  HOUSTON, TEXAS  77057  USA 1. 713.681.0075  FAX: 1.713.681.0035
           NEW YORK                 HOUSTON                  ASIA                       PARIS
Key features that appealed to the buyer of this pre-owned jet include:
Low total time
Exceptional package of optional equipment
Custom interior features including the addition of a galley annex that could be easily interchanged with the seventh passenger seat.
Very high Service Bulletin compliance
Enrollment on Embraer's EEC Enhanced Program and JSSI engine coverage.
"The whole marketing process was an interesting study in new product marketing.  Not only did we have to promote a specific airplane, but if you will, a concept.  We found ourselves promoting the aircraft not just to an established group of aircraft operators, but as well to first time buyers.  Consequently, not only were we extolling the benefits of S/N 5 over that of a competitive aircraft, but also that of the company behind the product. It was a great experience that allowed us to demonstrate and share the knowledge we acquired about this particular make and model of aircraft with many interested buyers.  As seasoned aircraft sales professionals, Par Avion was able to help our client and the buyer of the airplane to navigate the pre-purchase and final closing process with ease and take comfort in the knowledge that someone was taking out of the equation the guesswork of how to get it done," Iannarelli added.
Listed among the featured aircraft available for sale through Par Avion Ltd. are a 1985 Cessna Citation 650 with a Universal EFIS Cockpit upgrade, a 1987 Proline 4-equipped Dassault Falcon 50, a 1997 Dassault Falcon 50EX and a 1984 Citation 650 that is offered for lease.
About Par Avion Ltd.
Founded 15 years ago, Par Avion Ltd. is an international business aircraft marketing firm that specializes in the sale of pre-owned business jets with an emphasis on large cabin, intercontinental range aircraft. While widely recognized as the leading purveyor of pre-owned Dassault Falcon Jets, their sales expertise includes that of the Bombardier, Citation, Embraer, Gulfstream and Hawker business jet product lines. Exclusive representation, acquisition on demand and the oversight of an aircraft sales transaction are the key services offered by the firm. For further information, please visit www.paravionltd.com or contact Iannarelli at 713-681-0075 or jki@paravionltd.com.