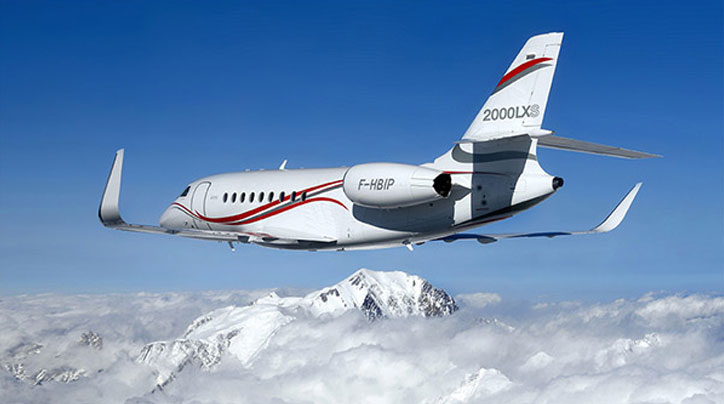 HOUSTON, Texas (Feb. 16, 2015) – Par Avion Ltd., an international business jet brokerage firm based in Houston, recently completed the acquisition of two pre-owned Dassault Falcon 2000LX business jets for Texas entrepreneurs.
Par Avion represents both buyers and sellers of pre-owned fixed wing aircraft that are valued up to $65 million. The company specializes in the sale of large cabin, long range aircraft with a particular expertise in cross-border transactions.
Janine K. Iannarelli, founder and president of Par Avion Ltd., explained that she and the Par Avion team represented these buyers in locating, evaluating and acquiring these Falcon 2000LX business jets in separate and un-related transactions. One of the planes that Par Avion brokered was a Dassault Falcon 2000EX that had been modified and upgraded to LX status.
"High and hot performance" — along with short-field capability– were the major drivers for the selection of this model of jet. Efficiency in fuel economy and a lighter carbon footprint were two additional factors that prompted the decision. Both of the jets brokered by Par Avion are less than 10 years old, are configured for ten passengers, and have a range of 4,000 nautical miles. The new owners plan to make their aircraft available for charter.
"After an exhaustive search of the global marketplace and assessment of the serial numbers available for sale, we concluded that the two aircraft selected for the respective clients represented stellar opportunities to buy a lot more airplane than what we first set out to acquire," Iannarelli explained. "Timing is of course an important element of any transaction, but our ability to root out opportunities helped to make the case for not only the particular aircraft selected, but also the price to pay."
Iannarelli added: "A hallmark of the services Par Avion Ltd. provides our clients is our extensive research capabilities. With our ability to conduct primary research for our clients, Par Avion is well equipped to generate results that exceed any reliance on secondary information sources. This asset, coupled with our extensive network in the global business aviation industry sector, leads to our discovery of opportunities that can then be converted into successful sales."
Although specific terms and conditions of these transactions were not disclosed; Iannarelli noted that her clients are extremely pleased with the price at which they were able to acquire this popular model of aircraft, beating present market valuations. The Falcon 2000LX is a continuation of the very successful Falcon 2000 product line. The LX carries forward the Falcon 2000EX EASy cockpit and, with the addition of winglets, offers a range capacity of 4,000 nautical miles. The Falcon 2000LX also has an excellent climb speed to 41,000 feet in 19 minutes.
About Par Avion Ltd.
Par Avion Ltd. is an international business aircraft marketing firm that specializes in the sale of pre-owned business jets with an emphasis on large cabin, intercontinental range aircraft. While widely recognized as the leading purveyor of pre-owned Dassault Falcon Jets, their sales expertise includes that of the Bombardier, Citation, Embraer, Gulfstream and Hawker business jet product lines. Exclusive representation, acquisition on demand and the oversight of an aircraft sales transaction are the key services offered by the firm. For further information, please visit www.paravionltd.com or contact Iannarelli at 713-681-0075 or jki@paravionltd.com.