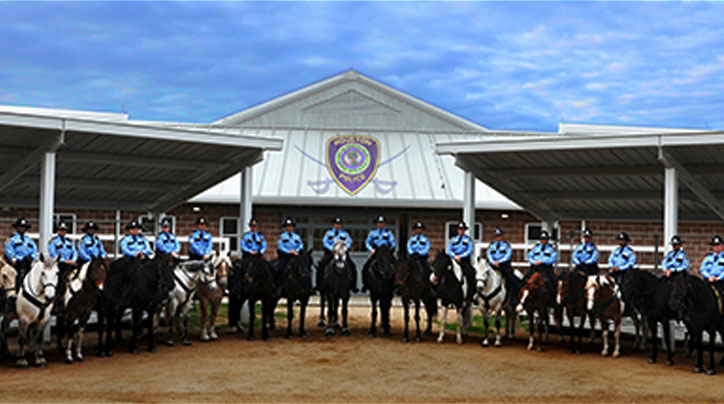 HOUSTON, Texas (March 4, 2015) – Par Avion Ltd., an international business jet brokerage firm based in Houston, continues its legacy of corporate responsibility and service to people, animal, and causes through renewed and expanded involvement in the community. Par Avion founder and president Janine K. Iannarelli has renewed her support of the Peace Parks Foundation and has added the role of sponsor of the Houston Police Department's Mounted Patrol Division.
The Peace Parks Foundation is a non-profit organization founded by Dr. Anton Rupert, Dr. Nelson Mandela and HRH Prince Bernhard of the Netherlands in the mid-1990s. The objective of this organization is to facilitate the establishment of transfrontier conservation areas or Peace Parks and to develop human resources which thereby support sustainable economic development, the conservation of biodiversity and regional peace and stability. Through the creation of Peace Parks, which often straddle adjacent countries, natural migratory routes for humans and animals are restored and significant economic benefits are in turn realized by participating nations. More information about the Peace Parks Foundation can be found at www.peaceparks.org.
"Par Avion has a long tradition of sponsoring events and supporting charities, and we endeavor to maintain specific commitments year after year," Iannarelli commented. "I viewed the renewed commitment to the Peace Parks Foundation as essential for the organization touches lives on so many levels and the success of the program ten years later is evident. It goes to the heart of the type of support I personally favor: the care and welfare of people and animals."
"Peace Parks Foundation remains steadfast in its vision and continues to act as a catalyst and facilitator in regional conservation development," said Johann Rupert, chairman of Peace Parks Foundation. "But this of course is not possible without the continuous generosity of our donors and club members like Ms. Iannarelli. We are very grateful to her for her continuous support."
The Houston Police Department revived the Mounted Patrol in 1984 with funds originally provided through a grant from the Downtown Central Business District. There is currently a stable of 38 horses, representing several different breeds. Thirty-two police mounts are assigned to patrol duty and each officer assigned to a mount is responsible for the care and well-being of his or her horse. Mounted patrols have proven to be an effective means of deterring crime due to their increased visibility. More information about the Houston Police Department's Mounted Patrol can be found at www.houstontx.gov/police/mounted/horses.htm.
Iannarelli's initial contact with the Houston Mounted Patrol dates back to 1991 when she donated a horse to the division. "Since having made this initial donation I have felt a connection and sense of obligation to the horses who serve our city. When I learned of the opportunity to become a sponsor of the Mounted Patrol Division I immediately made the decision to support them financially. While the objective of the division is to provide security and prevent crime, a mounted patrol is an essential part of our Texas heritage and Par Avion is happy to be able to help preserve this tradition."
About Par Avion Ltd.
Par Avion Ltd. is an international business aircraft marketing firm that specializes in the sale of pre-owned business jets with an emphasis on large cabin, intercontinental range aircraft. While widely recognized as the leading purveyor of pre-owned Dassault Falcon Jets, their sales expertise includes that of the Bombardier, Citation, Embraer, Gulfstream and Hawker business jet product lines. Exclusive representation, acquisition on demand and the oversight of an aircraft sales transaction are the key services offered by the firm. For further information, please visit www.paravionltd.com or contact Iannarelli at 713-681-0075 or jki@paravionltd.com.