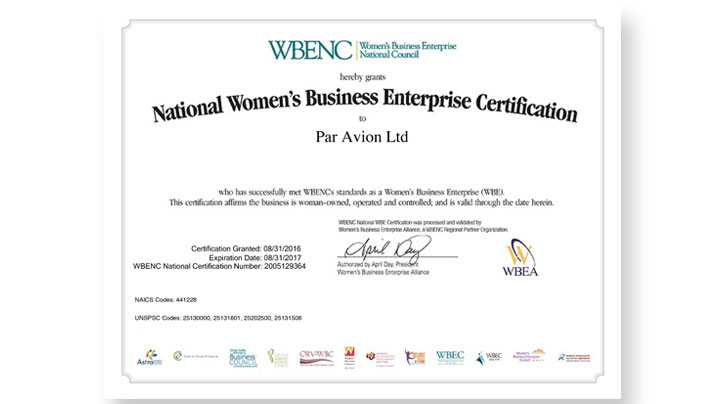 HOUSTON, Texas (Oct. 3, 2016) – Par Avion Ltd. has recently become certified as a Woman Owned Business at both the state and federal level. After a lengthy and complex application process, the Texas State Comptroller issued Historically Underutilized Business (HUB) status, while the Women's Business Enterprise National Council (WBENC) and federal U.S. Small Business Administration for Women-Owned Small Business (WOSB) issued their respective certifications. These three business certifications qualify the company to compete for and win contracts with more than 1,000 major U.S.-based corporations as well as government-owned and operated entities at the national and Texas state level.
Funded solely by Janine Iannarelli in 1997, Par Avion was founded with the objective of providing more personalized service to a global clientele of aircraft buyers and sellers of business aircraft. With more than 30 years of experience, Iannarelli is considered a pioneer among women in business aviation. She recently was inducted into the Aviation Hall of Fame of New Jersey and has been named as one of 10 "Women on the Move" by Texas Executive Women who will be honored in Houston on Nov. 15.
About these Certifications
The WBENC was founded in 1997 and serves as the third-largest certifier of businesses owned, controlled and operated by women in the United States. The WBENC certification is the most relied upon standard and is recognized by more than 1,000 corporations representing America's most prestigious brands. WBENC is also an approved Third Party Certifier for the United States Small Business Administration (SBA) Women-Owned Small Business Federal Contracting Program. Validation that an entity is 51 percent owned, controlled, operated, and managed by a woman or women is achieved through this certification. WBENC Certification provides women owned businesses the potential to compete for real-time business opportunities provided by WBENC Corporate Members and government agencies. (See www.wbenc.org)
The WOSB Federal Contract Program was begun in February 2011 by the small business administration with the goal of expanding the number of industries in which WOSBs were able to compete for business with the federal government. This program enables Economically Disadvantaged WOSBs (EDWOSBs) to compete for federal contracts that are earmarked for EDWOSBs in industries where women-owned small businesses represent the minority. It also allows set-asides for WOSBs in industries where women-owned small businesses are substantially underrepresented. (See /www.sba.gov/contracting/government-contracting-programs/women-owned-small-businesses)
A business must be a for-profit entity that does not exceed specific size standards and in which Texas is their principle place of doing business in order to qualify for HUB status. In Texas A HUB must also be at least 51 percent owned by an Asian Pacific American, Black American, Hispanic American, Native American, American woman and/or Service Disabled Veteran, who claim residency in Texas and actively participate in the control, operations and management of the entity's affairs. State agencies use the HUB Directory in conjunction with the Comptroller's Centralized Master Bidders List (CMBL) to solicit bids from certified HUBs for state purchasing and public works contracts. . (see www.comptroller.texas.gov/purchasing/vendor/hub/
About Par Avion Ltd.
Par Avion Ltd. is an international business aircraft marketing firm that specializes in the sale of pre-owned aircraft ranging in size from small to large cabin, intercontinental range business jets valued from $1 million upwards of $65 million. For further information, please visit paravionltd.com or contact Iannarelli at +1.713.681.0075.