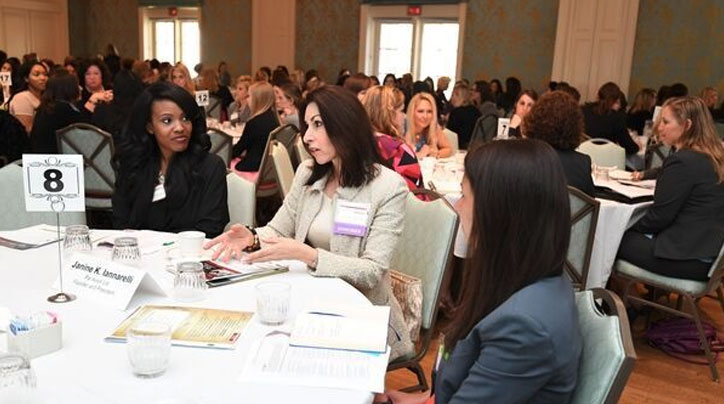 HOUSTON, Texas (April 5, 2016) – International business aircraft broker Janine K. Iannarelli shared insights and perspectives to guide working women at all phases of their life and career as part of The Houston Business Journal's Bizwomen Mentoring Monday event on April 4. Iannarelli, who is the founder and president of Par Avion Ltd., was one of 39 Houston area professional women chosen to serve as a mentor for The Houston Business Journal's Mentoring Monday networking breakfast and speed coaching roundtable discussions.
The Houston event, which was one of 43 Mentoring Monday events orchestrated by American City Journals publications throughout the United States, attracted 300 women. Attendees participated in four 10-minute "speed coaching" sessions, rotating among tables hosted by Iannarelli and other accomplished business owners and professionals who volunteered as mentors.
"I am honored to have been chosen to serve as a mentor in my home base of Houston.   Mentoring Monday clearly meets a strategic need for women of all ages and in all types of organizations as evidenced by the fact that more than 10,000 women carved out two hours of their busy day to attend in 43 cities across America," commented Iannarelli. "I enjoy interacting equally with women who are just starting their career and those who are launching businesses or second careers. I was impressed that the women who came to visit with me wanted practical guidance and that they appreciated hearing honest, candid observations and recommendations. For all of us business women, participating in events like these is a good reminder that, while each of us may have been fortunate enough to have a mentor who availed him or herself to us during the course of our career, many others do not. A forum such as Mentoring Monday offers the opportunity for women to tap these mentor resources and put forth the questions they otherwise might not get the chance to ask."
Iannarelli also shared tips for successfully navigating the cultural nuances of working with international clients and team members. She has extensive experience in cross-border aircraft sales and acquisitions.  She also maintains a large network of aviation industry contacts throughout the world.
About Par Avion Ltd.
Par Avion Ltd. is an international business aircraft marketing firm that specializes in the sale of pre-owned aircraft ranging in size from small cabin to large cabin, intercontinental range aircraft. Par Avion is widely recognized as a leading purveyor of pre-owned Dassault Falcon jets. For further information, please visit paravionltd.com or contact Iannarelli at +1.713.681.0075.