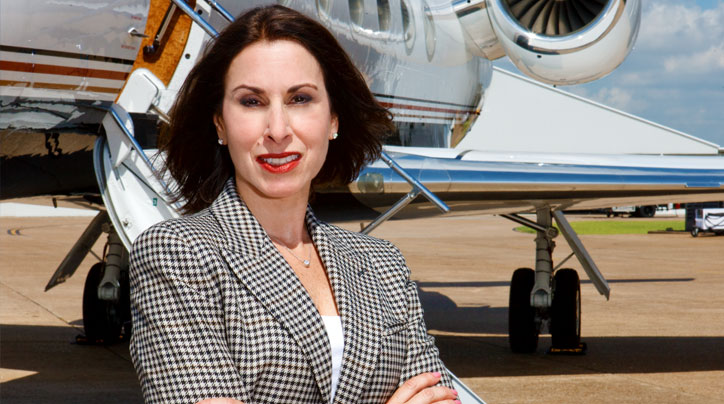 HOUSTON, Texas (Nov. 11, 2014) – Janine K. Iannarelli, founder and president of Par Avion Ltd., has been appointed to the Texas Aerospace and Aviation Advisory Committee, headquartered in Austin, by Governor Rick Perry. The committee of seven state-wide appointed members assists in the state's economic development efforts to recruit and retain aerospace and aviation jobs and investments and is supported by the Director-Aerospace, Aviation, and Defense and Texas Military Preparedness, Office of the Governor.
A resident of Houston, Iannarelli is regarded as a pioneer among women in the highly competitive field of business aircraft sales. Established in Houston in 1997, Par Avion focuses on the buying and selling of pre-owned business jet aircraft, with a specialization in complex cross-border transactions. The business aircraft that Par Avion brokers range in value from $3 million to $65 million.
"The appointment by Governor Perry to the Texas Aviation and Aerospace Committee is truly an honor, and I am grateful for this opportunity to give back to the state that has made so many things possible for me. I will work diligently to fulfill the responsibilities of the position and to the benefit of the great state of Texas. Texas is an aviation-friendly environment, and I will serve to help promote the fact that Texas is a global leader in this industry and encourage aviation manufacturers, vendors and other service providers to increase their presence here."
Iannarelli is a long-time member of the European Business Aviation Association, the National Business Aviation Association and Women in Aviation, International. She serves as a reliable source for news and commentary on the business aviation industry for media outlets and is listed among a select group of business aviation professionals available for comment to the media at the NBAA's Web site, nbaa.org. She is also a guest blogger for AVbuyer.com and Globalair.com and a regular guest on the "Simple Flight Radio Show." She recently served as the keynote speaker at the Houston West Chamber of Commerce Women Driving Business Committee's "Women Who Empower" luncheon where she shared comments and perspectives on her career in business aviation. Iannarelli was named a Great Woman of Texas in 2011.
Iannarelli is an executive member of the American Marketing Association, a board member of Mercury – The Orchestra Redefined in Houston, and a sponsor and volunteer for the non-profit association The Pin Oak Charity Horse Show. She served as the 2014 gala chairwoman for Culinary Institute Le Notre and is a founding member of Peace Parks Foundation. Iannarelli received a bachelor's degree from Montclair State University.
About Par Avion Ltd.
Par Avion Ltd. is an international business aircraft marketing firm that specializes in the sale of pre-owned business jets with an emphasis on large cabin, intercontinental range aircraft. While widely recognized as a leading purveyor of pre-owned Dassault Falcon Jets, Par Avion's sales expertise includes that of the Bombardier, Citation, Embraer, Gulfstream and Hawker business jet product lines. Exclusive representation, acquisition on demand, and the oversight of an aircraft sales transaction are the key services offered by the firm. For further information, please visit paravionltd.com or contact Iannarelli at 713-681-0075 or jki@paravionltd.com.
About the Office of Aerospace, Aviation & Defense and the Advisory Committee
The Office of Aerospace, Aviation & Defense was created by the 78th Texas Legislature. The goal of this office is to encourage economic development in Texas by fostering growth in the aerospace, aviation and defense industries in the state. This office works closely with the business communities in commercial and general aviation, space, defense, manufacturing, education, and workforce.
Responsibilities of the Office include, but are not limited to, analyzing current space and aviation related research and investigate opportunities to expand it, evaluate the state's economic position in these industries, develop business strategies and implement industry-specific strategic plans to promote, retain, develop and expand aerospace and aviation, and make recommendations to the Legislature and Governor regarding the promotion of those industries. Focus is on the continued expansion of the space and aviation industries in the state with recruitment and retention of aerospace and aviation jobs and investment a top priority. An advisory committee comprised of seven individuals from within various sectors of the aerospace and aviation industry was established by the Governor's Office, at the direction of the 78th Texas Legislature to advise and assist in the state's economic development efforts.