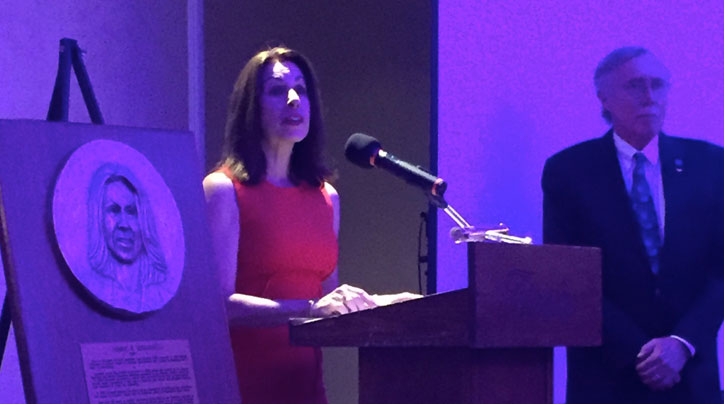 HOUSTON, Texas (Sept, 8, 2016) – International business aircraft broker Janine Iannarelli, has been chosen as one of three 2016 inductees into The Aviation Hall of Fame of New Jersey. Iannarelli will be recognized at The Aviation Hall of Fame of New Jersey's 43rd annual induction dinner on Sept. 27 in Wood-Ridge, N.J.
Iannarelli is a native of Fair Lawn, N.J., and a long-time resident of Houston, Texas. Iannarelli is the founder and president of Par Avion Ltd, which is headquartered in Houston with an office in Ridgewood, N.J. She also is a graduate of Montclair State University in Montclair, N.J.
The Aviation Hall of Fame of New Jersey recognizes three Garden State natives each year who have made a major contribution to the state's aerospace industry. Robert Cenker, an aerospace business consultant, former astronaut and Navy veteran, and William M. Miller, Jr., long-time Aereon president who is credited with developing and patenting aviation technologies such as an aircraft surveillance platform and a lifting body aircraft, will also be inducted to The Aviation Hall of Fame this year. A bronze bust of Cenker, Iannarelli, and Miller will be on permanent display at The Aviation Hall of Fame & Museum of New Jersey.
The Aviation Hall of Fame & Museum of New Jersey, founded in 1972 and based at the Teterboro Airport, preserves New Jersey's aviation and space heritage. Included among previous inductees are National Aeronautical and Space Administration (NASA) commanders, military veterans and prominent aviation pioneers such as Charles Lindberg and Amelia Earhart. The museum displays historic aircraft, space equipment, artifacts, photographs, art and an aircraft model collection.
Shea Oakley, executive director of The Aviation Hall of Fame & Museum of New Jersey, explained that the annual selection process for induction begins with a list of approximately 20 candidates who have all made important contributions to aviation and aerospace throughout the history of human flight and who also have a strong connection with the Garden State.
"Our induction committee culls this group down to seven solid candidates who are then voted upon by the museum's full board of trustees. Of these, only three are ultimately inducted into the Hall of Fame each year," Oakley commented. "Janine stood out as a pioneer among woman in business aviation and as a champion of this sector of the aviation industry. She impressed us not just with her very successful aircraft marketing background, but also with the multiple honors awarded her by the industry as well as the public spiritedness evident in her involvement with such prestigious organizations as the Texas Aerospace & Aviation Advisory Committee. Janine is a unique and worthy candidate, and we are very pleased that she was voted as one of our 2016 Inductees."
More About Iannarelli
Considered an industry icon and a pioneer among women in business aviation, Iannarelli has more than 30 years of business aviation experience. Because of her proficiency in selling Dassault Falcon jets, she has earned the nickname "The Falcon Lady."
Iannarelli is a member of the American Marketing Association, the European Business Aviation Association, the National Business Aviation Association, and Women in Aviation, International. In 2014, Iannarelli was appointed to the Governor of Texas's Aerospace and Aviation Advisory Committee. She was reappointed to a four-year term and named presiding officer of this committee by Texas Governor Greg Abbott in 2016. In March 2016, she was invited to join the EBAA Associate Members Advisory Council's Sales and Acquisitions Committee.
Iannarelli has achieved widespread recognition by a variety of media outlets and business organizations. The Fort Worth Business Press named Iannarelli a "Great Woman of Texas" in 2011. She also was chosen to appear on the cover of the November/December 2013 issue of Aviation for Women Magazine. Earlier this year, Iannarelli was also named among four finalists for the 2015 Texas Business Woman of the Year Award by the Women's Chamber of Commerce of Texas. In August, Texas Executive Women named her a 2016 Woman on the Move.
As a sought after mentor and inspirational advisor, Iannarelli serves as a speaker for women's and youth organizations on career development and life skills necessary to effectively navigate the business world. She also volunteers her time, experience, and resources to charities that benefit children and animals.
About Par Avion Ltd.
Par Avion Ltd. is an international business aircraft marketing firm that specializes in the sale of pre-owned aircraft ranging in size from small cabin to large cabin, intercontinental range aircraft. Par Avion is widely recognized as a leading purveyor of pre-owned Dassault Falcon jets. For further information, please visit paravionltd.com or contact Iannarelli at +1.713.681.0075.