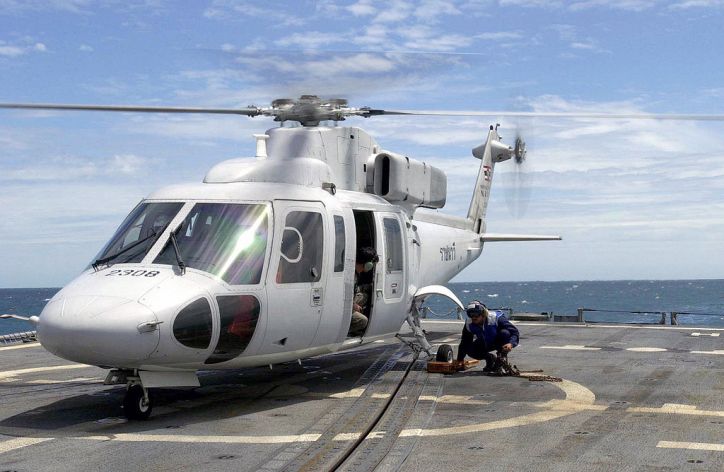 HOUSTON, Texas (Nov. 1, 2013) – Par Avion Ltd. (www.paravionltd.com), an international broker of pre-owned business aircraft, has recently completed the sale of a Sikorsky S76B  helicopter owned by the North American operations of a global pharmaceutical company to a Louisiana Gulf Coast-based corporation.
Although best known as a purveyor of business jets, Par Avion Ltd. has successfully concluded a number of transactions involving Bell, Eurocopter and Sikorsky rotorcraft.  This delivery of a helicopter into the Gulf Coast Region marks a first for the Houston-based aircraft brokerage and consulting firm.
Manufactured in the United States by the Sikorsky Aircraft Corporation, the S–76B features twin turbo-shaft engines, four-bladed main and tail rotors and retractable landing gear. Its heritage traces back to the mid-1970s, and its predecessor was the S-74 helicopter.
"The seller's switch to solely fixed wing operations necessitated the sale of this Sikorsky S76B helicopter.  This equipment has been maintained to the highest standards and features extensive avionic upgrades that were made in 2011. It is capable of transporting up to six passengers and is ideally suited for flight ops in highly congested metropolitan areas such as Houston.  Many corporations have gravitated toward twin engine operations as they feel they provide an added measure of safety and reliability," explained Janine Iannarelli, founder and president of Par Avion Ltd.
Based in Houston, Iannarelli has more than 25 years of business aviation experience and is recognized as a pioneer in her field.  She was chosen for the cover and a corresponding business profile story entitled "It's Just Business" in the November/December 2013 issue of Aviation for Women Magazine.
"Helicopters, both in VIP and utilitarian configurations, appear to be in high demand along the Gulf Coast, particularly among oil and gas industry operations," Iannarelli added.
More About Par Avion Ltd.
Par Avion Ltd. was established in 1997 by Janine K. Iannarelli.  Par Avion Ltd. is an international business aircraft marketing firm that specializes in the sale of pre-owned business jets with an emphasis on large cabin, intercontinental range aircraft.  Key services that Par Avion Ltd. offers include exclusive representation, acquisition on demand and the oversight of an aircraft sales transaction.  With U.S. offices in the greater New York area and Houston and with strategic partners in Europe, Africa and Asia, Par Avion offers a truly global reach for supporting aircraft sales and marketing needs.
Par Avion Ltd. has built a reputation for being a leading purveyor of pre-owned Dassault Falcon Jets. The Par Avion team also has extensive experience with buying and selling the Bombardier, Citation, Embraer, Gulfstream and Hawker business jet product lines.
Inventory currently available through Par Avion Ltd. is listed at www.paravionltd.com/aircraft-for-sale. For further information, please visit www.paravionltd.com or contact Iannarelli at 713-681-0075 or jki@paravionltd.com.