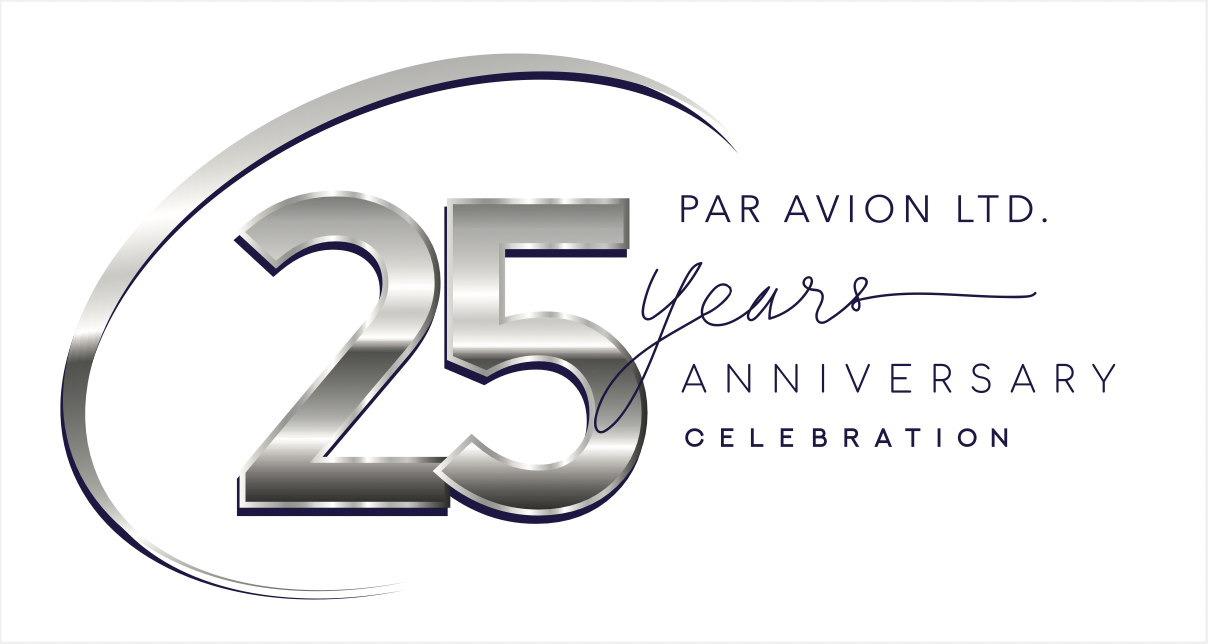 HOUSTON, Texas (May 12, 2022) – Par Avion Ltd., an international aircraft brokerage firm, is celebrating its 25th anniversary this year.  The Houston, Texas-based company specializes in the buying and selling of bespoke pre-owned aircraft ranging in size from small/light through mid/super midsize to large cabin, intercontinental range jets.
"Par Avion Ltd. is and always has been committed to delivering unparalleled service to our clients, and our position as a go-to resource for assistance in the aircraft sales industry speaks to this. I have worked to build relationships and a company with a global presence that stands on the time-honored principals of honesty and integrity all while providing an exceptional transactional experience. Par Avion has prevailed through a number of economic cycles and other challenges, proving our longevity and relativity through the years in this demanding field," commented Janine Iannarelli, founder and president of Par Avion Ltd.
Iannarelli established Par Avion Ltd. in 1997 with a vision to offer a more personalized, detail-oriented service to the business aviation community. A self-funded venture, the company under Iannarelli's leadership enjoys its place among a short list of globally recognized aircraft brokerages dealing in business and private aircraft. Par Avion is a long-standing member of the National Business Aviation Association and the European Business Aviation Association. Giving back to the community and the business aviation industry is a hallmark of the company, with Iannarelli leading by example by donating her personal time and resources. The company is a staunch supporter of STEM education and careers for girls and women in aviation, and Iannarelli personally serves as a mentor to students, young professionals, and small businesses.
Richard Bertel, chairman and CEO, of Rio Grande Pacific shared: "For nearly two decades, Par Avion Ltd. and Janine Iannarelli have been trusted and invaluable advisors and representatives for our corporate aircraft needs.  Attention to detail, expert market analysis and tenacious advocacy in multiple buy side and sale side transactions of increasingly sophisticated turbine jet aircraft have allowed our management team and executives to focus on our customers and building our businesses — without having to deal with the many intricacies and nuances of complex aircraft transactions, both domestically and internationally."
Iannarelli noted: "We are mindful of building a better future, and we embrace a continuing focus on the environment, social and corporate governance of our business. Our corporate culture from inception has been one of inclusiveness and diversification while serving as good global citizens. Even though traveling the world is a necessary aspect of  aircraft sales, it is not lost on me how invaluable an opportunity it has been to learn and grow in all these areas."
Craig Sincock, Avfuel Corporation's president and CEO, said, "I offer a hearty congratulations to Janine Iannarelli on 25 years of success with Par Avion, achieved through consistent service, professionalism, and industry knowledge. Her insight and tenacity has been influential to our industry, and I look forward to following Par Avion's story in the succeeding years."
Going forward, the company will stay the course by remaining committed to its mission, core values, and founding principles while continuing to evolve with the changing aviation landscape and the demands of a competitive business environment. Further investment in education and tools that enhance productivity will allow the company to pivot as needed.  Par Avion Ltd. plans to continue to make a market in a select group of business jet aircraft and seeks to expand the workforce as much as needed to meet rising demand for the firm's services.
For more  information, please visit www.paravionltd.com; contact Janine Iannarelli at +1.713.681.0075; and follow Par Avion Ltd. on Facebook, Twitter, and LinkedIn.