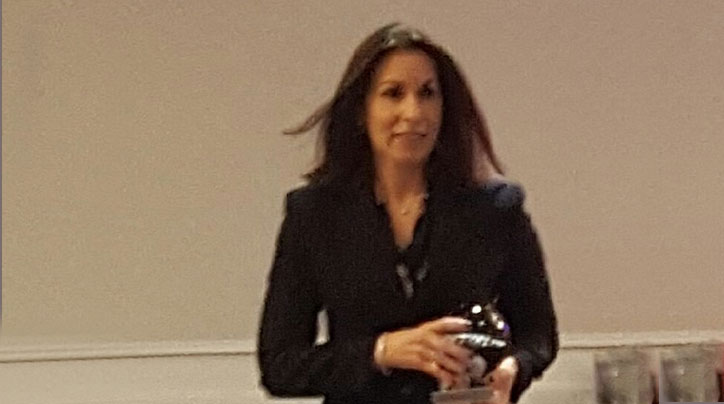 HOUSTON, Texas (Nov. 15, 2017) – Janine Iannarelli, founder and president of Houston-based Par Avion Ltd., will be recognized by Girlstart at its inaugural Game Changers luncheon on Dec. 13 at the Westin Galleria in Houston. Funds raised at this luncheon will support Girlstart's year-round programs in Houston, which includes free after school and summer camp programs that impact 500 girls at 20 high-need Houston area public schools.
Iannarelli is among four Houston area women being honored who are committed to science, technology, engineering and mathematics (STEM) education and careers. They include: Barbara Burger, president of Venture Technologies at Chevron; Eileen Collins, a retired NASA astronaut and United States Air Force colonel; and Sue Payne, a retired executive with ExxonMobil. Girlstart is recognizing Iannarelli and the other honorees for distinguishing themselves in these STEM fields and for serving as role models for girls who are pursuing STEM education and careers. Leslie Roe, University of North Texas Chancellor and former deputy administrator for the National Aeronautics and Space Administration (NASA), will serve as the keynote speaker.
"Girlstart provides much needed support and encouragement of young girls to pursue studies in math and science which in turn typically lead to careers in high tech fields. STEM education is an empowering pursuit and I salute Girlstart in this endeavor. For them to honor me as a leader and role model in the business aviation industry humbles me. I am awed and honored to be in the company of my fellow recipients, all of whom are truly STEM Game Changers," said Iannarelli.
Considered a pioneer among women in business aviation, Iannarelli in an international business aircraft broker with more than 30 years of experience. She is a long-standing member of the European Business Aviation Association, the National Business Aviation Association, and Women In Aviation, International. She presently serves as the presiding chair of the Texas Governor's Aerospace & Aviation Advisory Committee and chairwoman of the European Business Aviation Association's Advisory Committee's Sales & Acquisition sub-committee. Iannarelli is a 2016 inductee of the Aviation Hall of Fame of New Jersey. (Please visit paravionltd.com for Iannarelli's biographical profile for more information.)
"We are delighted to recognize Janine as one of four honorees as we host our first Game Changers fundraising luncheon, which will help us expand Girlstart programs in Houston. She is an excellent STEM role model for girls and an outstanding member of the STEM community – not just locally, but also on a national and international level," commented Jeff Davis, board member and Houston council co-chair.
About Par Avion Ltd.
Par Avion is an international aircraft brokerage that specializes in the exclusive representation and acquisition of business aircraft with an emphasis on new and pre-owned business jets valued upwards of $65,000,000(USD). For further information, please visit paravionltd.com; contact Iannarelli at +1.713.681.0075.
About Girlstart
Girlstart, founded in Austin in 1997, is the only community-based informal STEM education nonprofit in the nation specifically dedicated to empowering and equipping girls in STEM, through year-round programming that promotes girls' early engagement and academic success in STEM, encourages girls' aspirations and persistence in STEM education and careers, and incubates a talented and diverse STEM workforce. Its innovative, nationally-recognized programs include after-school and summer camps for students, professional development for teachers, and community and online STEM education outreach programs. Girlstart cultivates a culture where risk is rewarded, curiosity is encouraged, and creativity is expected. As a result, Girlstart girls are connected, brave, and resilient. Girlstart makes girls more successful, and inspires them to take on the world's greatest challenges. For more information about Game Changers, visit: http://girlstart.org/game-changers-houston/.