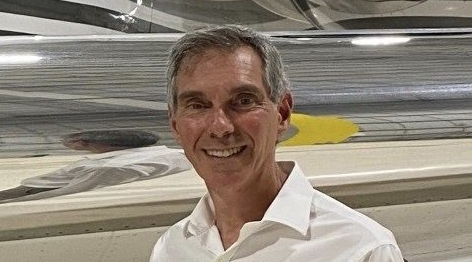 HOUSTON, Texas (March 30, 2020) – David Wyndham has recently joined Par Avion Ltd., an international aircraft business aircraft brokerage firm headquartered in Houston, in the role of Executive Sales Director and Acquisition Specialist.  Wyndham, who is based in Sebastian, Florida, is an industry veteran with more than 36 years of aviation experience and is a former United States Air Force C-130 instructor pilot.
"David is a highly respected aviation industry contributor and I am delighted to welcome him to the Par Avion Ltd. team.  He is a valued addition who is fulfilling a strategic role in helping us to continue delivering the customized, turnkey aircraft brokerage services that our clientele have come to know and appreciate", commented Janine Iannarelli, founder and President of Par Avion Ltd.  "In addition to being an accomplished business aviation professional whose unique skill sets are in high demand in today's sales environment, David shares Par Avion's commitment to the industry and association involvement, ethical business practices and community and charitable service."
Prior to joining Par Avion, Wyndham served as President and co-owner of Conklin & de Decker.  He was instrumental in growing the business to more than 2,000 clients in approximately 40 countries from offices in Arizona, Massachusetts and Texas.  At Conklin & de Decker Wyndham helped develop an extensive range of aviation consulting services for individuals, corporations and government agencies.
During his 23-year career with Conklin & de Decker, Wyndham focused his consulting practice on fleet planning, business plan development, cost and budget analysis, financial planning, aircraft acquisition planning, ownership structures and tax planning services.  He also oversaw market research studies which included demand forecasting for the introduction of several new production aircraft.  Wyndham writes a monthly column on owning and operating aircraft for Avbuyer, is a frequent source for commentary for several aviation industry publications and serves as a guest speaker at aviation industry conferences.
"Par Avion is one of the best aircraft brokerage firms in the aviation industry. Being a member of the growing Par Avion team provides an excellent opportunity for me to continue to serve the business aviation community." Wyndham said, adding: "I have known Par Avion's founder for more than 20 years. Janine's high regard for ethics, especially transparency in business dealings and her solid business acumen make for a great match for me."
Wyndham's early career in the military served as an excellent precursor to the development of his consulting and fleet planning business. His responsibilities with the US Airforce included aircrew training and safety, operations scheduling, and coordination of flight operations with multinational forces throughout Europe, North Africa and the Middle East.  He held a Top Secret/SCI security clearance required for sensitive intelligence flights, further demonstrating his commitment to upholding the high standards of our armed forces.
Wyndham is a graduate of the University of New Hampshire.  He holds a Master of Aeronautical Science from Embry-Riddle Aeronautical University.  He has also earned a Civil Air Transport Pilot certification and is a certified business coach.
About Par Avion Ltd.
Par Avion Ltd. is an international business aircraft marketing firm that specializes in the exclusive representation of and acquisition of aircraft with an emphasis on pre-owned business jets valued upwards of $70 million. For further information, please visit www.paravionltd.com; call +1.713.681.0075; or follow Par Avion on Facebook, Twitter, and LinkedIn.